Other Commercial Sites:


http://www.ttiinc.com/page/home
Owned by TTI Inc, this site has a feature called MarketEye that covers component news.

http://www.capacitorindustry.com/

http://www.capacitorindustries.com/technology-and-resources/glossary-of-terms/default.html glossary...big one

http://supervacindustries.blogspot.in/ These guys make consumables for the vacuum equipment for metallizing capacitor film and other things.

http://www.ti.com/
An excellent article on dielectric absorption by National Semi's Bob Pease, possibly the best information presently in "print". Check out his other articles in Electronic Design magazine (and buy his books) as well. Actually, National was eaten by T.I., but Pease stuff is on their website.

http://fcim.csdc.com/fcimis/compid/caps/cap.html
Includes a guide to mil-spec capacitor identification.

http://wiki.xtronics.com/index.php/Capacitor_Codes
Some capacitor marking standards, including military.

http://www.interfacebus.com/
Information on components, references to MIL specs and other things. A good site.

http://www.faradnet.com/
Faradnet is still under construction but is becoming a significant resource for capacitor fans. The main features right now include a huge list of about 1400 capacitor manufacturers around the world with links to their web sites (if any) and an equally huge list of references to capacitor literature. A messaging board has recently been added but it doesn't get a lot of traffic.

http://www-library.itsi.disa.mil/
Source for MIL standards. Includes search engine. ???

http://www.eia.org/ http://www.eciaonline.org/eiastandards/
The Electronics Industry Association has established standards for capacitor sizes, inspection, testing, materials, and a lot of other stuff. This site has, among other things, a searchable database of current standards. Actually, the search engine does not seem to work all that well and you are better off just downloading the list and doing a keyword search with your web browser (It's less than 200k). The standards list file links to several standards description files, so search while on-line to reach those. The EIA seems especially interested in ceramic and tantalum capacitors but other kinds are also represented in the various standards.

Among the standards of interest are EIA-198-1E, which contains all the details on ceramic capacitor styles and dielectric classes, including performance, markings, testing, and dimensions. It also references relevant IEC, MIL, and JIS standards. If you want to be a true capacitorologist you need these.

http://www.global.ihs.com/
Global is a distributor of EIA, IEC, and MIL standards, as well as those of other organizations. Global has a good searchable database, and you can order online. Standards don't come cheap, something like several dollars a page seems typical, plus shipping. This should not be surprising, many organizations make much or all of their living from the sale of standards.

http://www.iec.ch/
Unlike the EIA, the IEC will sell its standards direct (prices are shown in Swiss Franks). It has a pretty good search system. The IEC can now deliver its standards in electronic form. IEC 60062 and its updates have the capacitor and resistor marking standards.

http://www.apcc.com/
APC is a maker of uninteruptable power supplies. The site includes a glossary of power terms. Some good information, although many definitions are terse at best.

http://www.power-one.com/
Includes some information on IEEE C62.41 (IEEE 587). Not sure if it is still there.

http://powerelectronics.com/
Reprint of article about capacitor spice modeling. Not sure that article is still there but plenty of other stuff is.

http://www.angela.com/
This Angela Instruments site has information on reforming old aluminum electrolytics. Seems to be gone now. They sell lots of parts, aimed at vintage guitars.

http://www.eetimes.com/
Used to be chipcenter.com. This site is oriented around semiconductors, but has a fair amount of information about passives as well. A search engine will help you find it.

http://www.electronicsinfoline.com/
Lots of electronics projects, links.

http://www.films.bayer.com/
They once made the capacitor grade polycarbonate film. A search of their site for "capacitor" now finds nothing.

http://www.steinerfilm.de/company/index.html
Their products include Teflon film.

http://www.birkelbachfilm.de/diverse-en.php
Includes polycarbonate film.

http://www.capacitorguide.com/
A small site with some interesting information. Has a sister site on resistors.

http://www.everyspec.com/ Free government standards.
http://everyspec.com/FSC-CODE/5910/ This should get you the capacitor standards. maybe

http://www.passivecomponentmagazine.com/

http://www.ecadigitallibrary.com/index.php
http://ecadigitallibrary.com/ Carts source.

http://www.element14.com/community/welcome

http://www.electronicproducts.com/

http://electronicdesign.com/

http://electronicdesign.com/

http://www.talkingelectronics.com/

http://www.capacitorlab.com/index.htm

http://www.radio-electronics.com/

http://www.proaudiodesignforum.com/forum/php/viewtopic.php?f=6&t=153&start=2
Capacitors for audio.

http://attorney-group.com/blog/capacitor-price-fixing-investigation/?gclid=CMTD77vn1r8CFcwRMwodCAQALg WTF?
http://www.lieffcabraser.com/Case-Center/Capacitor-Manufacturers-Antitrust.shtml?gclid=CNThrr7o1r8CFQszaQodhkcAgg

http://www.powerguru.org/category/power-electronics-devices/capacitors/
Good stuff oriented toward power applications.

http://capacitorfaks.net/

http://www.radiomuseum.org/r/logos_logos_z.html

http://www.powerguru.org/


Literature Of Various Sorts:

Analog Dialog 30-2 (1996) from Analog Devices
"Ask the Engineer" #21 by Steve Guinta
A good look at common capacitor types for analog applications by the people who do that stuff. I think this is on their web site.

Capacitor Model Accounts for Temperature, Bias, by Debra Horvitz
EDN, 1/1/98
Improved capacitor SPICE model.

Electronic Engineering Master (EEM)
Now a web site, it used to be a four-volume set of component and equipment manufacturers catalog pages, including lots on capacitors, plus a list of manufacturers in each category. If you didn't have this you probably didn't belong in electronics anyhow. You got it free once a year by subscribing to Electronic Products magazine. If you needed something strange the high- volume vendors don't have (like a 100 kV Teflon capacitor), this was a good place to start looking. I miss the books

Power Conversion & Intelligent Motion magazine
1-805-650-7070, fax: 1-805-650-7054
Frequent articles on capacitors, mostly oriented around power applications like snubbers, motor starting, and switching power supplies. The annual buyer's issue (December) has a table of capacitor manufacturers and the kind of parts they make. The table in the last issue is a little sparse however.


MIL-HANDBOOK 217E

Although controversial, 217 is an important (and the most-often quoted) source of information on component reliability under various operating conditions. Probably obsolete by now.


MIL-HDBK-198

Application of capacitors, 1998.

There are two magazine articles on reliability. They are both based on 217:
Designing For Reliability: A Checklist, by Ki Punches EDN, 11/21/96
Failure Analyses And Testing Yield Reliable Products, by Arthur F. Upham EDN, 8/8/85

http://quicksearch.dla.mil/
MIL standards.



Books:

The Capacitor Book
Kaiser, Cletus J.
C. J Publishing, ISBN 0-9628525-3-8
A good introduction to capacitors if a little short on hard numbers at times. One of the few books of its kind commonly in print.
Kaiser has other books in print.

CAPACITORS Technology and Trends
Deshpande, R. P.
Tata McGraw Hill Education Private Limited, ISBN 13: 978-1-25-900731-6
Maybe the best book that tries to cover the whole field of capacitors.
The author's strength seems to be in the big-power area, but the book covers much more.
A new version is now available at a higher price.

Circuit Design: Know It All
Pease, Williams, and many others. Great introduction to electronics with stuff for the professional as well.
Newnes, ISBN-13 978-1856175272

Passive Components-A Users Guide
Sinclair, Ian
Butterworth-Heinemann, ISBN 0-7506-0229-5
Some information on capacitors.

Troubleshooting Analog Circuits
Pease, Robert A.
Butterworth-Heinemann, ISBN 0-7506-9184-0
Lots of stuff on electronics people mostly learn the hard way, including some on capacitors.

Electronic Components: Selection and Application Guidelines
Meeldijk, Victor
Wily Inter science, ISBN 0-471-1189-723
Has extensive information on capacitors, including construction, standards, markings (including military and Japanese), and even history.

Selection and Application of Capacitors
Moynihan, John D., ed.
Components Technology Institute
904 Bob Walleye Ave., Suit 117
Huntsville, Alabama 35801
1-205-536-1304

http://www.cti-us.com

Recommended by Plastic Capacitors Inc. (see below). Contains good information not easily found elsewhere on a variety of topics, including calculation of temperature rise in electrolytic capacitors, radiation tolerance, and failure analysis methods.

Passive Electronic Components Handbook
Harper, Charles
McGraw-Hill
Heard about it, haven't read it.

Space Charge in Solid Dielectrics,
ed. Fothergill and Dissado. 1998, ISBN 0 9533538 0 X Very hard to find after all these years.
Electrical Degradation and Breakdown in Polymers
Fothergill and Dissado. 1992, pricey


Internet Sites:

This list is hardly inclusive, mostly just the ones I found helpful, or were otherwise of special interest. Someday I might even put it in alphabetical order. I have found the usual number of typos, misplaced decimal points, and mislabeled tables, so beware. Don't be surprised if you can´t reach all the sites listed. I know that link-rot is already setting in and make corrections when I find changes.


Capacitor Manufacturer/Distributor Sites:

http://www.plasticcapacitors.com/
Plastic Capacitors Inc. makes high-voltage film capacitors. Their site has several interesting technical bulletins, including one on the replacement of obsolete parts. The site is dated 2000!

http://www.plasticcapacitors.com/bulletin2.html
Read this. It's one of two bulletins on this site.

http://www.orenelliottproducts.com/index.html


http://product.tdk.com/en/products/capacitor/
A large number of papers on capacitors.

http://www.vishay.com/capacitors/related/
Many papers.

http://product.tdk.com/capacitor/mlcc/en/faq/index.html
Guide to ceramic capacitor issues.

http://www.wima.de/EN/technicalinformation.htm
Lots of good stuff here. WIMAS's stated devotion to quality, the boxed construction and the fact that they still manufacture only in Europe has given them a bit of a cult status among high-end audio people.


http://www.eichhoff.com/

Eichhoff Electronics makes line-filter capacitors (and the filters they are used in) in a wide variety of types and packages.

http://www.sbelectronics.com/products/application-notes/
SBE specializes in big inverter DC-link and pulse capacitors.

http://www.paktran.com/
Information on several film types. ITW Paktron is a big proponent of replacing ceramics with large-value film capacitors in some applications, and this site includes a number of graphs comparing the two.

http://www.evox-rifa.com/
Now part of Kemet it seems.

http://www.nacc-mallory.com/
nacc-mallory is gone, and their URL sends you to a porn site. Vishay seems to have picked up at least some of their product lines.

http://www.avxcorp.com/
Ceramics, tantalums, glass, most information in .pdf format. The various AVX-Kyocera companies make tantalum and ceramic power supply bypass capacitors and this site has many papers on their theory and application. It is perhaps the largest collection on the web. There is also information on a variety of special products such as glass capacitors, thin-film microwave capacitors, very large multi-chip ceramics for switching power supplies, and a cross reference. More recently, AVX has added film capacitors to their line.

http://www.cornell-dubilier.com/
Mica, aluminum and tantalum electrolytics, film, and paper-film. Their catalog, Mica Capacitor Databook, has good information on mica capacitors.
http://www.cornell-dubilier.com/calculators.htm
Java applets and .pdf files on figuring temperature rise in aluminum electrolytics.

http://www.vishay.com
Vishay makes all kinds of stuff. Lots of technical literature, design tools Vishay makes a variety of capacitors, including OS-CONS type. The site has information for estimating the life of OS-CON aluminums.

http://www.kemet.com/
Kemet makes ceramic and tantalum capacitors and their site has lots of interesting .pdf papers on their construction and use, plus some nice booklets you can request. Also, very good cross references and software. Kemet has now merged with Evoxrifa and added aluminum electrolytics to their line.

http://www.kemet.com/TechnicalArticlePage
Many good papers on the kinds of products they make, and capacitor in general.

http://www.T-Yuden.com/
Taiyo Yuden is a major manufacturer of multilayer ceramic capacitors (MLCC) and related products, although they are not yet well known outside of Japan. They have added lithium-ion "super caps" to their product lineup. The also make highly regarded recordable DVD media.

http://www.spectrumcontrol.com/
Spectrum Control Inc. is mostly known as a maker of EMC products such as filtered connectors and power-line filters. However, they also sell a broad range of ceramic capacitors, including high voltage, SMPS, and microwave capacitors. They now seem to be part of API Technologies.

http://www.atceramics.com/
American Technical Ceramics is a specialist in ceramic and porcelain RF capacitors, as well as general-purpose ceramics.

http://condenser.com
Condenser Products is a specialist in large, high-voltage (>100 kV) film and paper-film capacitors, including Teflon.

http://www.dearbornelectronics.com/
Dearborn Electronics makes both standard and custom capacitors in a wide variety of film and paper-film dielectrics. They now have a wider range of capacitors and other products.

http://jenningstech.com
Jennings Technology makes gas and vacuum capacitors. Their site is down for now.

http://www.presidiocomponents.com
Presidio Components makes a variety of specialty ceramic capacitors, including large size, high voltage, high temperature, and low temperature.

http://www.orenelliottproducts.com/
Oren Elliot Products is a major maker of air variable capacitors. Their site mentions other products but gives no information.

http://www.sanyovideo.com
Home of the polymer-electrolyte OS-CON (aluminum) and POSCAP (tantalum) capacitors. Gone...the URL sends you an online "pharmacy".

http://www.rubycon.com
Rubycon´s offering include several advanced liquid-electrolyte aluminum capacitors with ESRs approaching that of polymer-electrolyte capacitors. They now have polymer-aluminum caps and film caps.


http://www.crcfilm.com
Component Research Company specialized in Mil-spec film capacitors in a variety of dielectrics, including Teflon. They seem to have disappeared, but some parts are still stocked.

http://www.arizonacapacitors.com/RelId/606238/ISvars/default/Home.htm
Specialist in high voltage film caps. Mentions polycarbonate, polystyrene and Teflon.

http://www.caps.com/
Home of the MultiCap™, opinions on the use of capacitors in high-end audio equipment. This link no longer works.

http://www.v-cap.com/
Make a variety of caps for the golden-ear audio folks. Home of the V-Cap.

http://www.knowlescapacitors.com/novacap
Maker of high-end ceramic caps. Good information on capacitors in general and on ceramic in particular.

http://www.elna-america.com/
Electrolytics, including double-layer capacitors. They also sell some film caps.

http://www.maxwell.com/
Double layer capacitors.

http://www.voltronicscorp.com/
A big name in trimmer capacitors, non-magnetic chip ceramics.

http://www.evanscap.com/
Novel electrolytic and double-layer capacitors, "Tantalum hybrid capacitor."
http://kdcomp.com
Web site is down. KD Components has a variety of specialty ceramic capacitor products, including high-voltage, high-temperature, large sizes for switch-mode power supplies, and proprietary dielectrics.

http://www.johansondielectrics.com/
http://www.johansondielectrics.com/technical-notes.html
Johanson Dielectrics is another specialist in ceramics. In addition to the usual chip capacitors, there are a variety of large single and multi-chip leadframe styles for switch-mode power supplies (both through-hole and SMD), and single layer SMD ceramics for RF/microwave applications. Includes caps rated to 250 C.

http://www.chemi-con.com/main/technical/u7002/guidelines
http://www.chemi-con.co.jp/e/index.html
Big on aluminum electrolytics but other products as well.
United Chemi-con has extensive information on using aluminum electrolytics. The present site has a lot of broken links. The Japanese site is better.

http://www.nichicon-us.com/
Had extensive information on construction and application of aluminum electrolytics. Don't see it any more.

http://www.electrocube.com/
http://www.electrocube.com/product-categories/film-capacitors1/southern-electronics/
http://www.electrocube.com/product-categories/film-capacitors1/seacor-capacitors/
http://www.electrocube.com/product-categories/film-capacitors1/pfc-precision-film-capacitors-and-standards/
http://www.electrocube.com/product-categories/film-capacitors1/f-dyne/
The site has a number of good papers on applications. May have limited supply of polycarbonates.

http://www.paccom.com/
See the PACCOM "Reference Library". Site is now for sale.

http://www.seacorinc.com/tables/specs/motor/default.htm
Technical article on motor run and start capacitor usage. Now part of Electrocube.

http://www.logwell.com/
Interesting information on a variety of electronics topics. The owner of the site is dead and the site is no longer doing business. A third party is maintaining the site to keep the information available however.

http://www.taiwan-capacitor.com.tw/
I just like the name of the company.
Noncommercial Sites:

http://en.wikipedia.org/wiki/User:Elcap
This guy may know more than I do! In an case, Wikipedia has a lot of information.

http://electronics.wikia.com/wiki/Capacitor
One of a number of Wikipedia capacitor pages.

http://www.g3ynh.info/index.html
Many interesting things in electronics (and other things) on this site. It explains dipole theory much better than I can and almost certainly more accurately. That's why I gave it a high position on this list.

http://kaizerpowerelectronics.dk/
Hobby site with interesting stuff.

http://echa.europa.eu/web/guest/regulations/reach
REACH is a regulation for control of dangerous chemicals in Europe. For example, PVC will stop being used for the sleeves on electrolytic capacitors. It is being replaced by PET, which contains no halogens. You can even download databases of chemicals.

http://www.inemi.org/
International Electronics Manufacturing Initiative.

http://nepp.nasa.gov/whisker/
The motherload of whisker information.

http://www.hlinstruments.com/RoHS_articles/
The other motherload.

http://www.info.gov.hk/gia/general/199906/11/0611172.html
No comment.

http://www.nist.gov/pml/wmd/metric/prefixes.cfm

http://en.wikipedia.org/wiki/Film_capacitor
Great job.

http://en.wikipedia.org/wiki/EIA_standards

http://en.wikibooks.org/wiki/Electronics/Capacitors

http://www.engineers.com/
The Engineers´ Club has software demos, shareware, and many links to other engineering sites.

http://en.wikipedia.org/wiki/Main_Page
A really surprising amount of quality information on capacitors.

http://www.altair.org/labnotes_hawgcap.html
More capacitor tricks that might get you killed. Altair is full of cool geek stuff.

http://www.vintage-radio.com
Another site with information on old capacitors.

http://arioch.gsfc.nasa.gov/
Office of System Safety and Mission Assurance. Includes more stuff on MIL capacitors than you would ever want to know, most of it confusing. Just search on "capacitor".

http://www.eskimo.com/~billb/amateur/capexpt.html
Don't try this at home.

http://www.eskimo.com/~billb/emotor/cap1.txt
Capacitor misconceptions.

http://nepp.nasa.gov/npsl/Capacitors/Cap_type.htm
Last updated in 2001.

http://tdei.sju.edu/tdei
IEEE site, web home of several journals.

http://www.electronics-oems.com/ecomponents-cc.html
Even more links

http://www.epanorama.net/
A site with all kinds of electronics information (including capacitors of course), including a long list of links.

http://www.uoguelph.ca/~antoon/circ/hv/hvcap/hvcap.html
High voltage caps for amatures.

http://www.electropedia.org/
Encyclopedia of electrical and electronic terms.

http://alt-nrg.de/pppp/0304tb_55x.html
Links, lots and lots of links. This is in German. but so what?

http://analogrules.com/capacitors.html A quick guide to capacitors.

http://www.capturedlightning.com/frames/links.html They gave me a link so...

http://www.wjoe.com/capacitorinfo.htm Good stuff on codes.

http://www.alliedcatalogs.com/catalogs_main Old Allied catalogs, a limited history of common capacitors.

http://www.technicalaudio.com/pdf/Electronics_Catalog_Extracts/ Vintage catalogs.

http://electrojumble.org/techdata.htm Vintage capacitor codes.

http://www.radioshackcatalogs.com/index.html

http://www.ietlabs.com/genrad_history/historic_handbooks/ General Radio history.

http://www.conradhoffman.com/capchecktut.htm Testing electrolytic capacitors.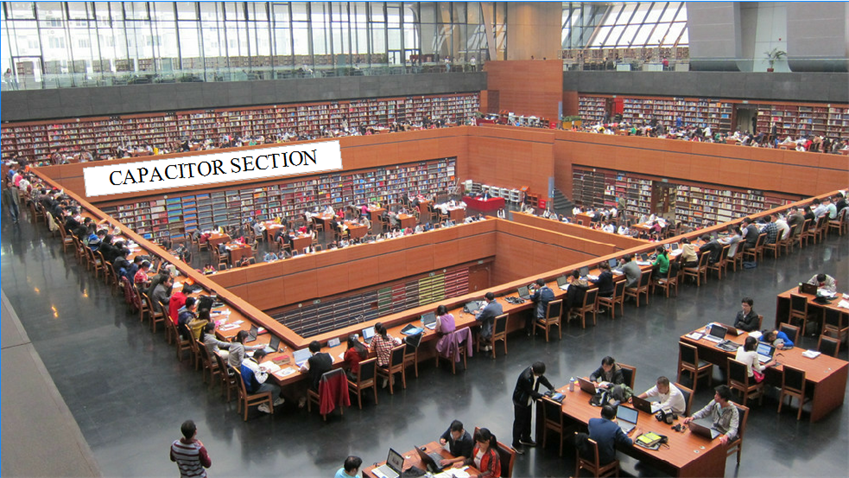 Capacitor Film and Foil Manufacturers:

These lists are certainly not complete nor totally accurate. Where does Teflon or polystyrene film come from for example? Also, some of the companies are not manufacturers but metallizers who buy the film from others. Some metallize as well as sell film, and some of those also make their own capacitors. Websites tend to be behind the curve. Their owners may have added products they don't list, or they may show products no longer made.

http://www.tomypure.co.jp/english/eng-top.html Chemicals for capacitors.